Contact
---
Questions?
We would be happy to respond to your questions on a free initial phone call.
We welcome your phone call: 765-759-7339
Service Area
---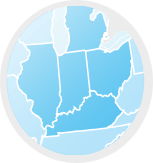 Perkins Intervention's main service areas are in Indiana and surrounding states, including Indianapolis, Fort Wayne, Bloomington, LaFayette, or Muncie, IN, Louisville, KY, Cincinnati, OH or Eastern IL or Southern Michigan. Occasionally, there is a need to travel to one coast or the other, particularly Florida. If Bruce cannot travel or is already booked for the time you want, he can and does recommend other intervention specialists.